We are an open alliance of local projects, neighborhoods, organizations and committed individuals. Our vision: LebensMittelPunkte in every neighborhood, for an ecological and social transformation of our food system in Berlin.
WHY WE ARE COMMITTED TO LEBENSMITTELPUNKTE
We're all about bringing good food to everyone. LebensMittelPunkte provide an impulse to become active, and a chance to build more together. The idea is simple: we get together and organize activities in our neighborhoods in order to make healthy, regional and rescued food accessible to more people. We are not alone in this — we are a Berlin-wide network that helps projects support each other, exchange knowledge, and share resources.

Our goal is to develop regular activities in every Berlin neighborhood, based on three pillars of action: as DEPOTS we are sourcing and distributing food together, as KITCHENS we are cooking and eating together, and as MEETING POINTS, we become hubs of activity in our communities.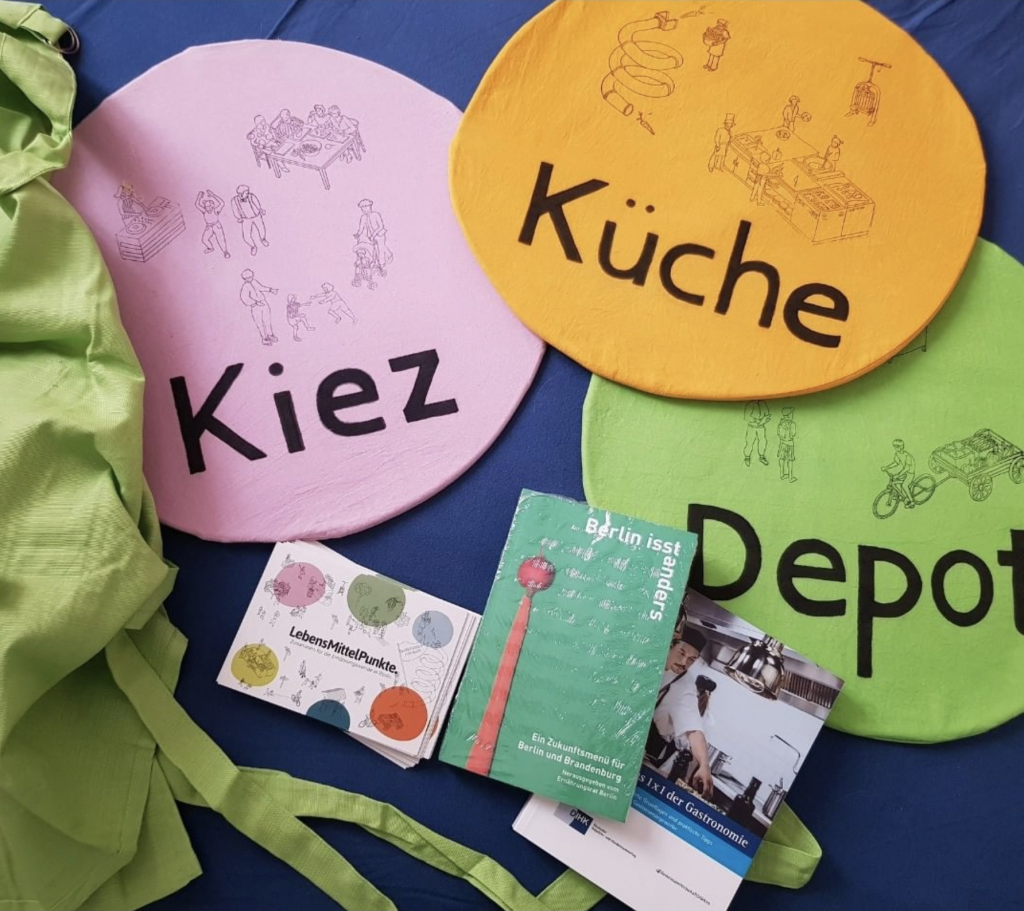 LebensMittelPunkte are neighborhood-places with self-organized activities in the areas Depot, Kitchens and Meeting Points. They're always part of the Berlin-wide LebensMittelPunkte network..
SELF-ORGANIZATION
FOOD SOVEREIGNTY
HEALTHY FOOD FOR EVERYONE
BUILDING COMMUNITY
CREATIVITY & INDIVIDUALITY
HOW THE LEBENSMITTELPUNKTE NETWORK CAME TO BE
Our LebensMittelPunkte network came into being in 2020. Ideas for something called "LebensMittelPunkte" (like a food hub) had already been floating around in the Berlin food scene for several years. First volunteer initiatives had been founded. The idea was even a demand put forward by the Berlin Food Policy Council, and was also written into the Berlin Food Policy Strategy of the State of Berlin in 2019.
What was missing, however, was a clear definition of and a strategy for what LebensMittelPunkte (LMP) exactly are, and how they can be created. So we put our heads together and changed that. In 2020, the project "Werkstatt LMP" was funded within the framework of the Berlin Food Strategy. Over a period of six months, we were able to launch the LebensMittelPunkte network – together with the already existing initiatives, neighbors and other actors working for food system change in the city region of Berlin-Brandenburg. We established our network as an independent alliance of all LMP initiatives. Since then, our network has continued to grow and receive funding from the city.
2015
AG Stadt & Ernährung: Development of the idea and the name "LebensMittelPunkte", 1 LMP initiative (Spandau)
2017
Food Policy Council Berlin: "LebensMittelPunkte" featured in the list of demands to the city, 2 LMP initiatives (Spandau, Lichtenberg)
2019
City of Berlin: "LebensMittelPunkte" in the action plan of the Berlin Food Policy Strategy, 3 LMP initiatives (Spandau, Lichtenberg, Haus der Statistik)
2020
Funding project "Werkstatt LMP": Joint development of definition and implementation concept, foundation of our alliance, 5 LMP initiatives (Spandau, Lichtenberg, Haus der Statistik, Torhaus, Baumhaus)
2021
"LMP Action Weeks": More than 60 public actions and events in all districts of Berlin, co-organized by all 16 LMP initiatives ( new initiatives include Trial & Error, Offenes Wohnzimmer, Kulturnetz, Marzahn-Hellersdorf,…)
2022
"LMP Mitmachaktionen": Individual support of the LMP initiatives, onboardings, LMP summit, 27 LMP initiatives, 4 'finished' LebensMittelPunkte
LMP NETWORK BERLIN IMAGE GALLERY
OUR NETWORK IS OPEN TO EVERYBODY!
THIS IS A NETWORK FOR …
Solidarity, collaboration and inclusion. The more diverse our network becomes, the better. Let us know if you need specific support to join.
THIS IS NOT A NETWORK FOR …
Discrimination, racism, or any kind of misanthropy such as sexism, trans- and homophobia, anti-semitism, anti-science ideas or conspiracy ideologies.